IN Australia, the barramundi is regarded as the ultimate freshwater sportfish. In Africa, there's a fish that would eat it for breakfast and then take on a croc for afters! This review of The Goliath, a book written by Dann Douglas, was published in Zimbabwe Fisherman, who kindly gave us permission to reproduce it. Oh, and you have to go to the Congo to find this beast -not the healthiest holiday venue at present!!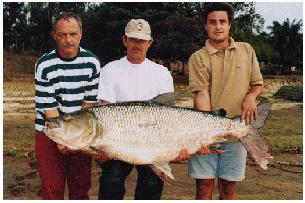 EVER dreamt of catching the ultimate freshwater fish?
For most of us this opportunity remains a dream. For a handful of intrepid anglers and adventurers, and Dann Douglas in particular, the hunting of Africa's Goliath tiger has become an obsession.
In this, his first book, "The Largest Tigerfish in the world -THE
GOLIATH", Dann takes the reader on an adventure of discovery and mystery. The book boasts some excellent photographs of these magnificent fish as well as the equally impressive Congo River. From an early age, Dann, growing up in the wilds of what, even by today's standards, is an unspoiled Eden, the Congo was savage and primitive.
From the dense and unexplored equatorial forests, one of the world's only remaining tropical jungles, to its spectacular kaleidoscope of flora and fauna, much of which remains unexplored, the environs of the Congo were a boyhood paradise. It was the lure of the great Congo River that, as a young man, became the focus of Dann's insatiable appe-tite for adventure.
The Congo River basin covers a vast area of the Democratic Republic of Congo. This huge, often swampy depression has an average altitude of less than 400m, the lowest areas being located in the north-western region near lakes Tumba and Maji Ndombe. The Congo is the second largest river in the world after the Amazon. With a length of 4700km its volume averages between 30,000 and 80,000cm/ sec.
Upstream from Kinshasa the river broadens and at "the Pool of Kinshasa" reaches a width of 15km. The country has over 12,000km of navigable waterways, the Congo River being the largest. Flowing westwards it winds its way through Bukuma, Kongolo, Kindu, Ubungu, Kisangani, Kinshasa, Matadi, before entering the Atlantic Ocean. There is a multitude of large lakes which offer the country great potential for sport fishing -although at the time of writing, another civil war grips the region, pushing the elusive Goliath even further from reach. World records in Goliath Ti-ger, Nile Perch and Catfish have been recorded from these waters and there is no doubt that the country holds tremendous promise for the adventurous angler. "These fish can attain an incredible size. Some old Congolese
fishermen have told me that they can attain a mass of 70kg. These old fish lose their teeth and frequent the deep dark holes of the river. The largest fish seen caught was a specimen of 49kg, and was taken by my friend Christian", explains Dann.
It was the lure of these huge fish and his encounters in trying to apprehend them that inspired Dann to write a book about his experiences.
"The goliath is a killing machine, always ready to pounce on a likely meal. It is also a cannibal and will not hesitate to attack other tiger. So strong is its predatory instinct that it will often attack bait half its own size -that's what makes it so exciting!"
Years of experience and a great understanding of the tiger and their environment makes Dann one of the few authorities on angling for this species.
"I can only quote my own personal observations and experiences on this topic, it is a fascinating subject, and one that I have studied for many years.
"I was born in Kinshasa, and had the privilege of growing up in the bush. My parents lived 30km from
Kinshasa, in a house on top of a hill overlooking the forest. That's how I got the fishing and hunting virus. "From the age of seven I would roam the bush with one of my father's workers who was also a fisherman. For me he was a precious teacher. "The river was so rich in the number of species, we came back every day with a stringer full of fish threaded on a palm tree stem. "As I matured in years, so did my appetite to catch bigger and bigger fish." Never before has such an in-depth and comprehensive study been made of this little-known fish. Dann's book is the first of its kind and is a reflection of his pioneering spirit.
It is large, measuring 250mm x 300mm, and its 120 pages are filled with some outstanding full colour pictures of monster fish. Full of technical information it covers various aspects of tackle and tactics as well a narration of personal experiences and encounters with goliath by Dann and his colleagues. The book was originally written in French, Dann's native tongue, and was designed to cater for the French speaking, European market. A limited number of English copies have been made available for other parts of the world and in particular Zimbabwe and South Africa have received a limited number of copies.
In trying to keep the text as close as possible to Dann's French version, some of the English grammar has been sacrificed. But this by no means detracts from the technical data and it remains very readable. The fact that this book is the first of its kind ever written solely about the goliath tiger makes it a real collector's item. It holds a wealth of information and is the ideal textbook and a must for anyone with ambitions on one day tackling these monster fish. Dann's book is available through mail order from Mag-Set Publications at P. O. Box 6204 Harare, Zimbabwe Africa at a cost of US$ 50 (including packaging and posting). Faxed orders can be sent to (+ 263-4) 572786.
Advertising in the Bundu Times Have you considered advertising your business where other members will be sure to see it? The rates are very reasonable* and we do have limited space available now. They are:
Full page inside cover: $198 for six issues, $50 for one issue Full page elsewhere: $180 for six issues, $45 for one issue
Two-thirds of a page: $130 for six issues, $32 for one issue Half page: $100 for six issues, $25 for one issue
One-third page: $70 for six issues, $17 for one issue Back page: $130 for six issues
$2 per classified, $50 per insert *exclude typesetting