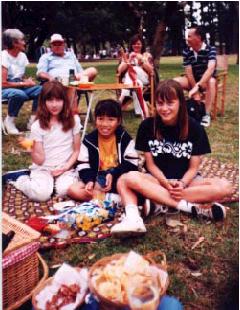 Waiting for Santa: Nothing like a picnic to pass the time!
Well, the weather forecast for the weekend did not bode too well. Rain, rain and more rain predicted for the Sunday BBQ. This must have put some of you off. What a pity.
By now you all know not to trust the forecasters as Sunday turned out to be a very pleasant day, nice and cool with a reasonable crowd in the park.
Those that attended had a great time and the free borewors went down a treat. Santa was again in attendance and his antics certainly kept us amused.
The kids enjoyed him, even those from nearby groups. Well done Santa, see you next year. To all our members, have a good 1999 and see you at our next function!
Christmas in Kings Park
Right: Administrator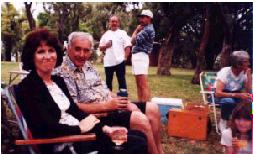 Doug Capper and wife Jackie sit back and relax. In the
background, Chairman Don Maclure and Keith Jaggardchat and just in
the picture, far right,, an attentive Fiona Watson and bottom
right Tamara Capper.
Right: Chairman's wife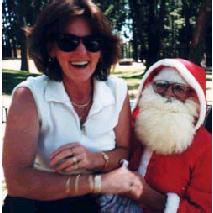 Lyn Maclure with you know who!